I don't have a great nose for scent in roses, but when my timing is right, I can find a good Damask scent in 'Stanwell Perpetual'. If you don't know the scent I'm talking about, it's what you'd smell in a perfume made with rose oil, which is harvested and distilled from Damask roses. As insensitive as my nose may be, I can tell you this: not every rose has this same scent. Some people describe the other rose fragrances as fruity, as spicy, or compare them to tea or cloves or licorice. I can't really get all that specific myself, but I can pick out the scent of a Damask rose in this one just fine.
'Stanwell Perpetual' is a chance seedling from a garden, so the actual breeding would be a guess, but it most closely resembles the Scots rose, Rosa spinosissima. I do also grow the species, and they look alike most respects, but the flowers in 'Stanwell' are larger, fuller, scented, and instead of setting hips, 'Stanwell' repeats bloom later in the season.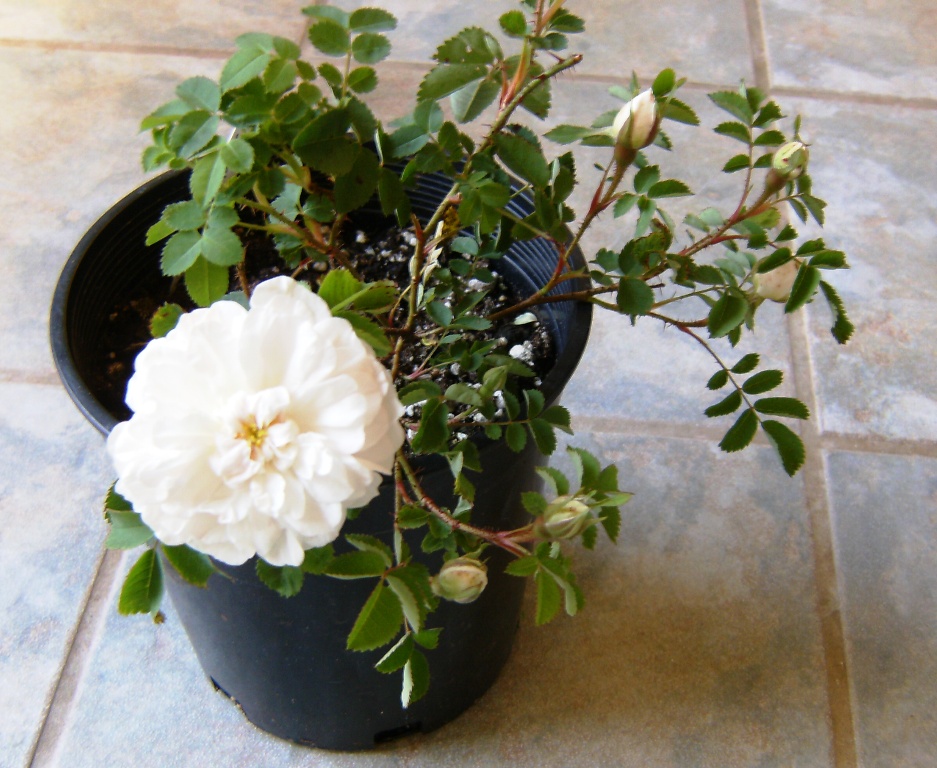 This is the rose in a 1 gallon pot. This picture is taken after the soft pink of the largest bloom has faded to a creamy white, but I do like the way this picture shows off the foliage and abundant buds. The habit of the rose is low growing, and because of its toughness, 'Stanwell' is great for putting on a sunny bank, or even in a more shaded location. It will, of course, do better in a more pampered location, but if you need a rose for a challenging location, you could hardly do better than this one.