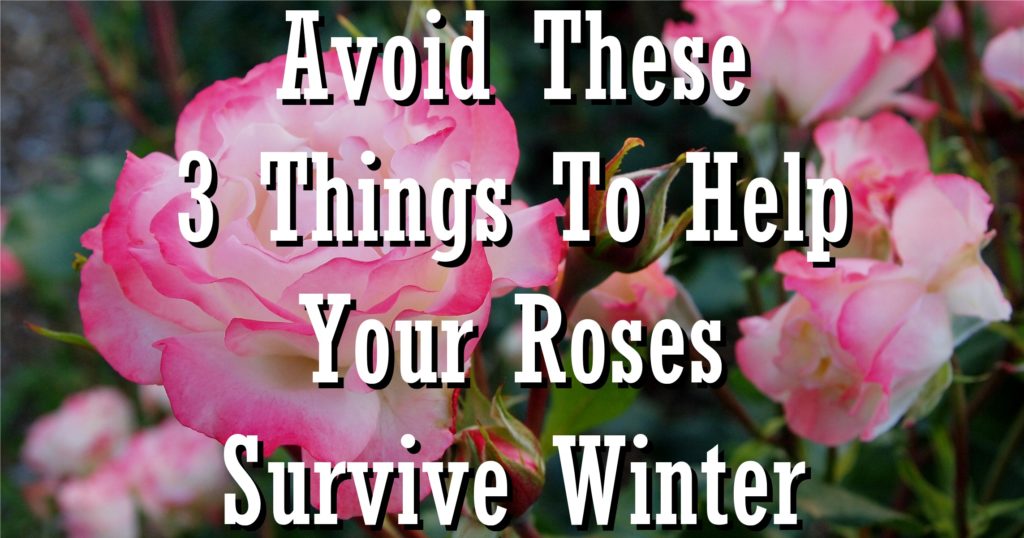 Roses are built to survive winter
Don't treat your roses like they're the fancy dinnerware of the garden. Most are descended from tough, northern climate species, and they're well prepared to get through the cold of fall and winter – at least in the mild-to-moderate climate of the Fraser Valley. Some of the "special care" that gardeners offer their roses in the lead-up to winter can, in fact, be detrimental to their survival. Don't kill your roses with kindness! Avoid these 3 mistakes to give your roses a fair chance to survive:
#1: Late season pruning
Lock those pruners and back away from the rose… slowly. It may be tempting to give your roses a good cleanup going into the fall and winter. The leaves are yellowing and falling, the flowers are spent, and the stems are untidy – if not downright overgrown. You might think that your rose has a better chance if you cut it down lower, and send it into the winter with clean stems. You'd be wrong. Let me say this unambiguously – before winter is the wrong time to do structural pruning on a rose.
Why? Look at what winter damage on a rose looks like: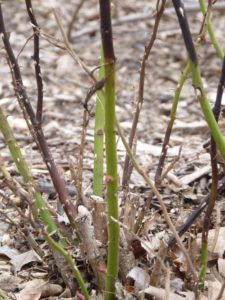 The stems are blackened at the top end – the most exposed tissue to the cold and drying winds of winter. The length of cane damaged will depend on the hardiness of the rose (many varieties have some sub-tropical genes bred in to promote reblooming) and the severity of the winter. In a mild winter, it may be only a couple of inches – in a severe winter, I've seen the damage exceed 18 inches!
Now I ask you: if you left your rose unpruned at 3 to 4 feet of height, and you lost 18 inches of stem in a severe winter, how would you feel about it? Not bad, probably. You were going to prune for shape and structure in the spring anyhow. Now how about if you pruned it back low before winter – say to 18″ from the ground? If the winter damage reaches all the way back to the crown, it's game over.
As an added advantage to leaving your rose a little untidy over the winter, birds and other wildlife depend on the rose hips and canes for food and protection.
I will add an exception now, just for completeness: there's no bad time to remove dead or diseased wood from the rose. Also, if there are a few stems that have grown well above any support, and you know that they'll just blow around and break in the wind, go ahead and prune them back to a reasonable length.
#2: Late season fertilizing
This one is a little counter-intuitive. It seems like a good idea to supply your plants with all the nutrition they need before the harshness of winter. A late-summer or fall application of fertilizer, however, can send your rose the wrong signal.
Those sub-tropical semi-evergreen rose genes I mentioned in passing come back into play here. Some of the best reblooming roses have a tendency to push new growth late in the season. They're opportunistic growers. If the weather suits them, they'll keep growing. As of today, November 19th, I still see a dozen or so roses in my garden cheerily flowering and sending up new growth.
In addition to mild weather, they'll also grow in response to ample feeding and to heavy pruning.
That soft growth has no chance of hardening-off before winter. By far, you're better off leaving the fertilizer until spring. Here on the rose farm, I stop feeding my outdoor roses in August.
#3: Deep Winter Mulch
The practice of hilling soil or mulch over the crown of a rose is a carryover from advice given to gardeners in very cold winter regions when trying to overwinter roses that are not well suited for their climate. It doesn't apply well here, and from what I've read, it should be applied with caution even in colder climates. Read this article from the University of Illinois Extension for a good description of these methods. The emphasis is on not trapping moisture at the crown of the rose.
I don't winter mulch anything. We take -10 celsius with heavy outflow winds, and my losses have been minimal. I'm crossing fingers and knocking wood as I write this, but I'm also quite sure that in our wet climate, anything that could hold water against the crown of my roses is not worth the risk.
For those who are more visual learners, here's a video I made on the topics discussed above: