For the front garden, we decided on a fairly tight theme: plants chosen for their fall and winter features. You might think that this plan would feel restrictive or limiting, but I actually found it to inspire my creativity. I started by ordering a few varieties of willow, with their colorful winter stems. That led on to other plants with interesting stems and bark, and then on to plants with colorful berries, blooms or foliage through the cold season. In this post, I'll list some of the best small trees, shrubs, and perennials for winter color.
Here's a video tour of the garden as it stands going into winter of 2017:
Stems and Bark
Both dogwoods and willows display brightly colored stems after their foliage drops in the fall, and that color often intensifies over the following months. We selected 5 varieties of willow and 3 dogwoods for the front garden. They all put on their best color on first-year growth, so I recommend a low annual spring pruning.
Salix x. 'Flame'
Cornus 'Midwinter Fire'
Salix rubens 'Hutchinson's Yellow'
Cornus 'Winter Flame'
Salix alba 'Chermesina'
Cornus sericea
Salix matsudana tortuosa – red corkscrew willow
Salix alba 'Britzensis'
To round out the bark colors and textures, I also added: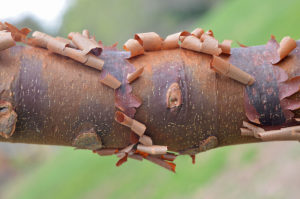 Acer griseum – paperbark maple, for its ornamental peeling trunk
Rubus thibetanus – ghost bramble, for its striking white canes
Lagerstroemia indica – for its patchwork of stem colors
Flowers for the Winter Garden
At first consideration, I would have been pressed to think of many plants that carry flowers through the cold of winter. We started with the late winter blooming Witch Hazel 'Jelena', but then expanded my definition to include shrubs and perennials that flower late into the fall or push the boundaries of early spring. Pictured is Mahonia intermedia, and our other selections are listed below: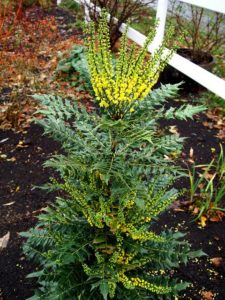 Mahonia intermedia
Helleborus hybrids
Hypericum – St. John's Wort
Schizostylis coccinea
Hamamelis 'Jelena'
Ribes sanguineum – flowering current, for very early spring
Viburnum 'Dawn'
Sarcococca confusa – Himalayan Sweet Box
Bergenia cordifolia
Berries
I'm going to have to include roses in this category, because their main winter feature is their fruit. I chose these three for the winter garden:
Rosa davidii – which also has deep red colored stems
'Ballerina' – a hybrid musk with a veritable cloud of small hips
'Magic' – a not-so-miniature mini rose with great fruit
Some of the most exciting color for the fall and winter garden comes from brightly shaded berries like these:
Callicarpa americana
Ilex aquipernyi 'San Jose'
Hypericum – for the fruit as well as flowers
Callicarpa bodinieri
Foliage and Form
I still have some space in the winter garden, and my plan is to spend it on some of those evergreens and structural elements that tie a garden together when most of the other foliage has dropped. So far, I've planted:
Cephalotaxus fortuneii
Buxus 'Winter Gem'
Abies koreana
Thuja occidentalis 'Teddy'
The holly (Ilex) and himalayan sweet box (Sarcococca) listed above are also evergreen, and could be listed in this category as well. In addition to these conifers and broadleaf evergreens, I'm pondering the addition of ornamental grasses, which can hold their structure well in the winter. Even a deciduous shrub like Euonymus alata (burning bush) can add an architectural quality due to the cool way it accumulates snow atop its winged branches.
I'll run out of space before I run out of plants
My one conclusion from designing this garden is this: once you start looking, there are plenty of plants with interesting winter features. There's definitely some call for winter-blooming bulbs, ultra-early perennials, and the list of conifers with striking foliage is massive. I've made good progress in deciduous plants with colorful stems, but even within the willow family, there are another 3 or 4 I'd like to wedge into the beds somewhere. I'll be making videos as the garden matures and fills in. If you're interested, you can subscribe to my Youtube channel to get the updates. If you have any suggestions, I'd be happy to hear those as well.