Recently, I've been talking to anyone who will listen about why we (rose gardeners) need to take control of our own hobby and safeguard the many garden-worthy, heirloom and unique roses that are no longer offered "in the trade". Think about this for a minute: we have over 2000 years of rose cultivation under our belts, and thousands of exceptional cultivars selected. Yet, we're going to leave it to some buyer at a national home improvement store, sales report in hand, to decide which ones will carry on and be offered to the next generation of gardeners. Can you say "Knock-Out"?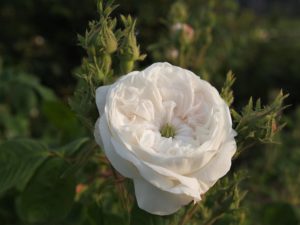 Madame Hardy, pictured above, will probably never make the cut at the big-box stores – but still deserves an honored place in the garden. Thus, we need a plan.
If you look back on my previous posts, or at my Youtube videos, you'll see me giving instruction on how to take semi-hardwood cuttings. I'll probably add another one shortly on how you can stick winter-season hardwood cuttings. I also talked to the Fraser Pacific and Vancouver Rose Societies about how we can work together to keep our best garden roses being propagated and distributed to budding gardeners.
If we're not going to rely on the big nurseries, just how do we expect it to happen?
And just how do you eat an elephant? One bite at a time. How do we save garden-worthy roses? One rose at a time.
This is my first offer: If you have a rare but worthwhile rose in your garden, and are willing to root some cuttings, I'll be happy to trade you something interesting from my assortment. I'll plant your rooted rose as a trial plant in my garden, and if I also find it worthwhile, I'll continue to propagate it for sale. And that's that… one more rose back "in the trade", insofar as you can call our little farm part of the nursery trade.
And my other offer: Maybe you don't have the time or wherewithal to root your roses, or maybe you're too far away from the Fraser Valley to make sense of trading potted roses. Nonetheless, if you have a rare rose in your garden, and you'd like to see it back in distribution, you could send me some cuttings. I'll happily pay the postage. On my end, I'll stick the cuttings and see if I can get some roses rooted. In return for your efforts, upon successful rooting, I'll send you your choice of some rooted rose liners.
So that's my part in it… but I'm just one guy. The more gardeners we get involved in preserving roses, the better we can help each other to take control of our hobby. That's why I'm asking you to arrange your trades of cuttings or roses on this Facebook group: Canada Rose Cuttings & Exchange.
We can share our lists: what we have, what we're looking for. But we can also share techniques, arrange trades, discuss suppliers… anything related to the propagation and dissemination of hard-to-find roses. I hope to catch up with you there.